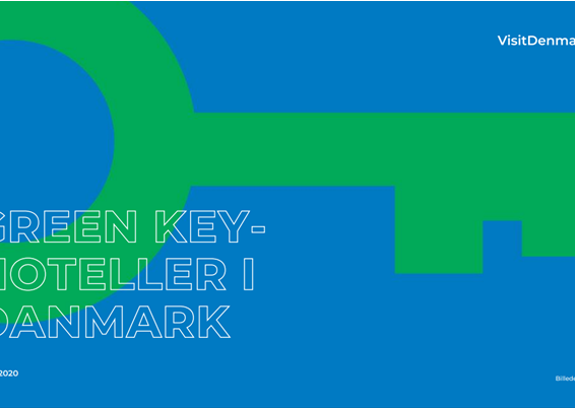 One in every five hotels in Denmark is Green
VisitDenmark has made its first report on Green Key hotels in Denmark. The report showed that one in every five hotels is a Green Key hotel, which provides tourists, who value green solutions, with great opportunities for sustainable stays in Denmark.
In Denmark, the hotels certified Green Key are on average twice the size of other hotels measured on capacity in terms of amount of beds and rooms. Majority of the Green Key hotels are in the 4-stars category, they are situated in the Copenhagen area and attract a much higher rate of business stays than the none Green Key hotels.
"Green Key hotels have many more business stays compared to the remaining group of hotels, and we expect this trend to grow even further. Green Key has contributed positively to a collective reduction of CO2-emissions on hotel stays despite the fact that the number of stays has grown substantively" says Environmental Officer of HORESTA, Mikal Holt Jensen
Green Key hotels offer the tourist, who value green solutions, with great opportunities for sustainable stays while visiting in Denmark. VisitDenmark's latest analysis on sustainable development, 38% of the Germans and 36% of the Swedish people answered that they expect environmental and sustainable considerations to a large or very large degree will have an impact on their next choice of travel.
"Therefore, we consider it great news, that the option to choose between 142 green hotels now exist, when you as a tourist have to find a place to stay in Denmark. This also acts in accordance with the Danish Government's ambition of Denmark being the most sustainable tourism destination." says Chief Analyst, Helle Damkjær from VisitDenmark
Green Key is tourism's international environmental label, which is offered to tourism companies, that goes the extra mile to protect the environment. The label exists in 60 countries but has its origins in Denmark made by HORESTA. The report on Green Key is made in collaboration with HORESTA, as they provided the data used.
Continued focus on gathering new information
VisitDenmark continues its collection and communication of information and data on the tourists' needs and behavior concerning sustainability.
"The report is the first step towards an overview of what Denmark can offer the tourists for whom sustainability is an important motive for travelling." says Helle Damkjær
 For access to the full report in Danish click here...